Red lake schools will be two hours late today due to road conditions.
Ponemah bus #26 will be about 10-15 minutes late.

We would like to invite parents to answer this survey regarding what you would like to see taught about Red Lake History & Culture in school! Please complete the 1-question survey linked here:
https://forms.office.com/r/784jQzqS3J
Miigwech!

MSHSL Boys Section Game is TONIGHT! Our Boy's Basketball team will be going up against Pelican Rapids at 7pm right here in the Red Lake High School Gym. Doors Open at 5:30. Wear your "Warrior" Gear to cheer on our warriors! See the following photo for more information: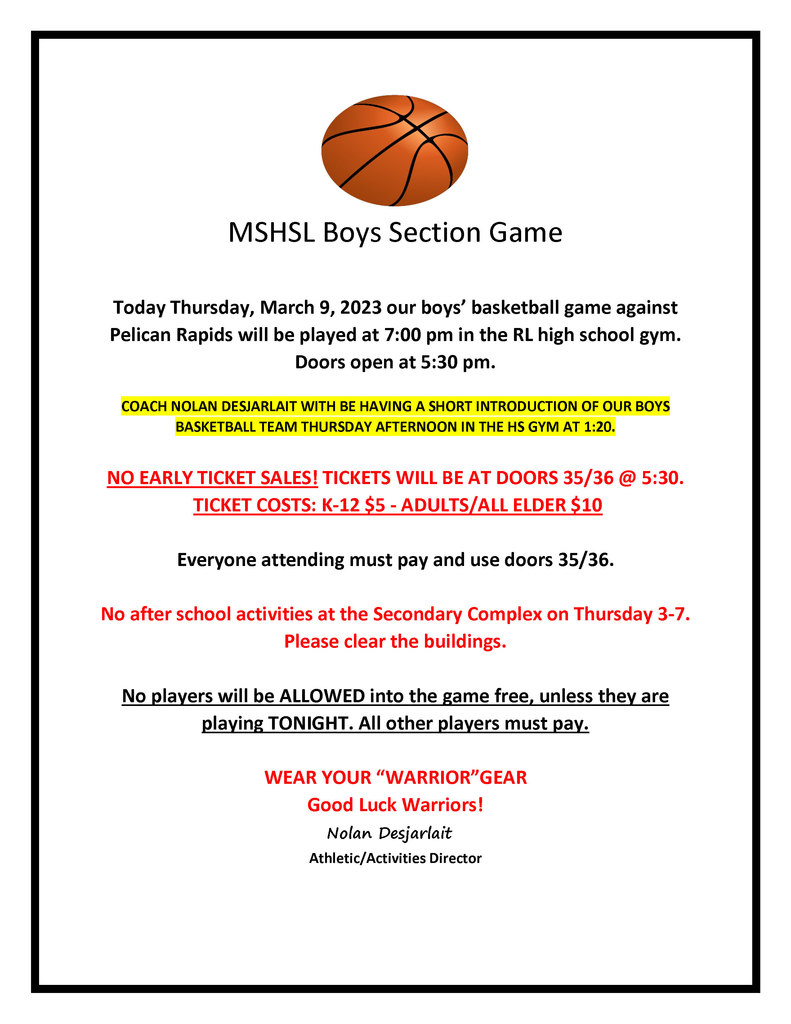 There will be an early release for all of ISD #38's schools on Thursday, 3/2/23. Ponemah and RLEC will dismiss at 2:00pm, RLSE will dismiss at 2:15pm. Let's go warriors! Miigwech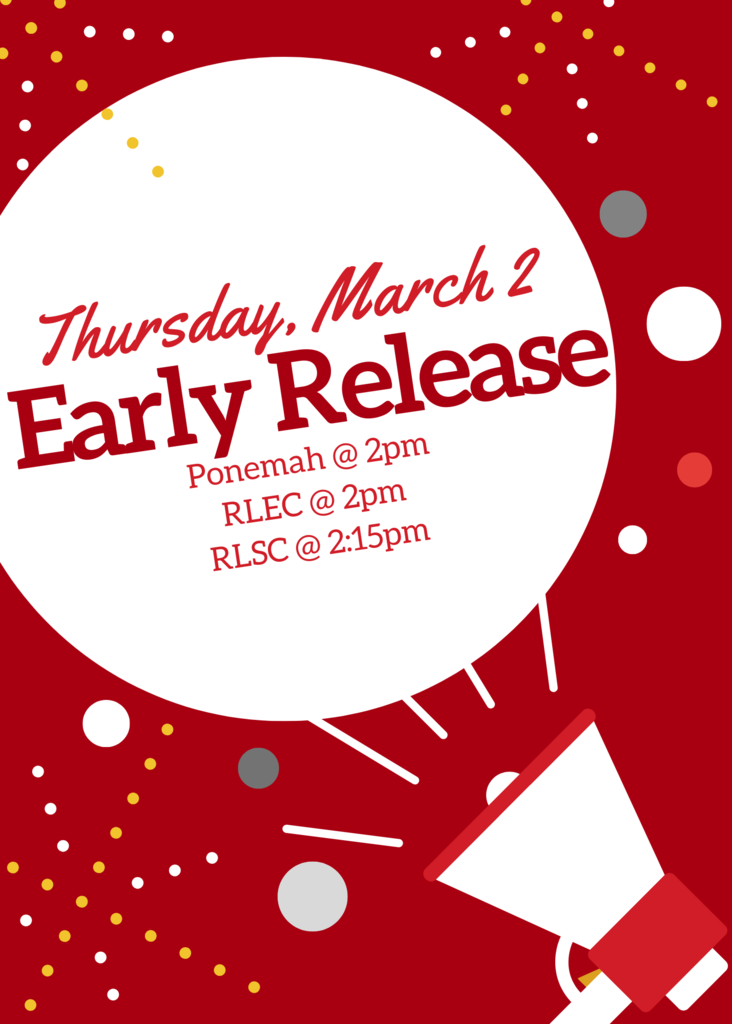 Red Lake Public Schools Parent Advisory Committee Elections April 11th The Red Lake Public Schools District will be holding their American Indian Parent Advisory Committee (AIPAC) election April 11, 5:00 pm at the secondary complex culture room. No application form is needed. Attendance is required. Eligible candidates are parents or guardians of American Indian/Alaska Native students in the district. The purpose of the AIPAC is to advise the district on how to meet the unique educational and culturally related academic needs of Anishinaabe students, so that students can meet State standards, gain knowledge and understanding of Anishinaabe language, history, traditions, culture and values, and ensure that all staff who serve Indian students have the ability to provide culturally appropriate and effective instruction and supports to such students. If you have any questions, contact Dr. Giniwgiizhig at (218)407-2412. Miigwech!
Students that ride bus #3 will be riding a different bus this morning and afternoon. Students that stay from Ponemah to the jct 1 & 15 will get on bus #26 and hwy 1 old Ponemah road to the fishies get on bus# 12.Sorry for any inconvenience this may cause as we are short one driver today.

Enjoy your day off today! We'll see you back at school tomorrow!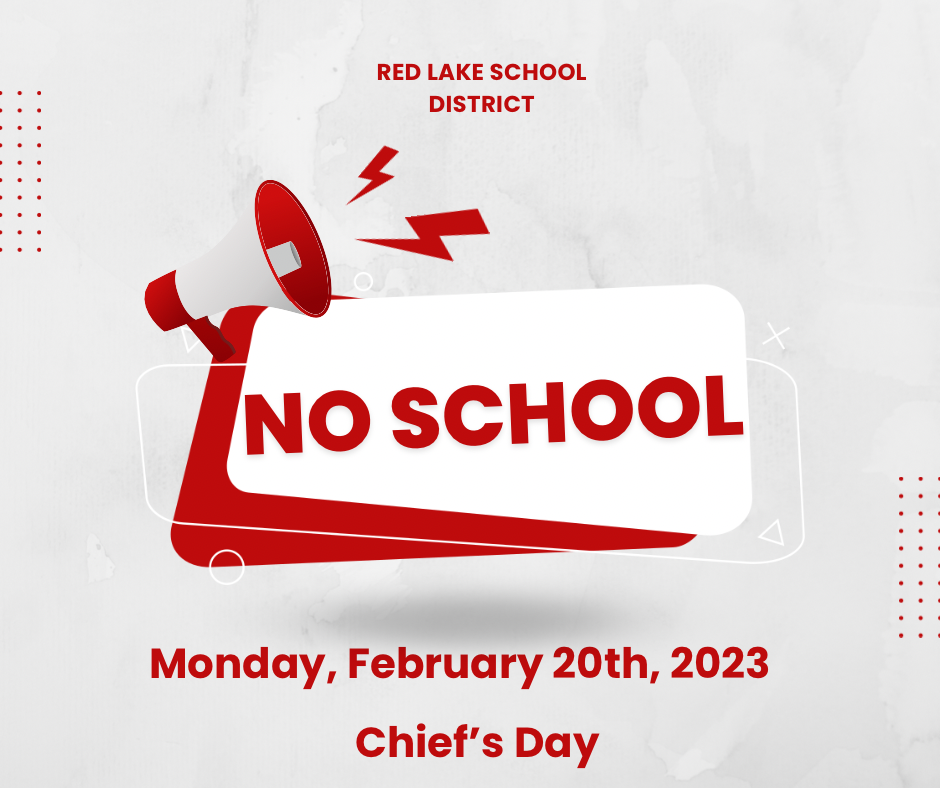 Are you a High School Student, or soon-to-be High School Student? Check out this Road Map to Graduation -- with all of Red Lake School's Graduation Requirements listed. If you have any questions, please reach out.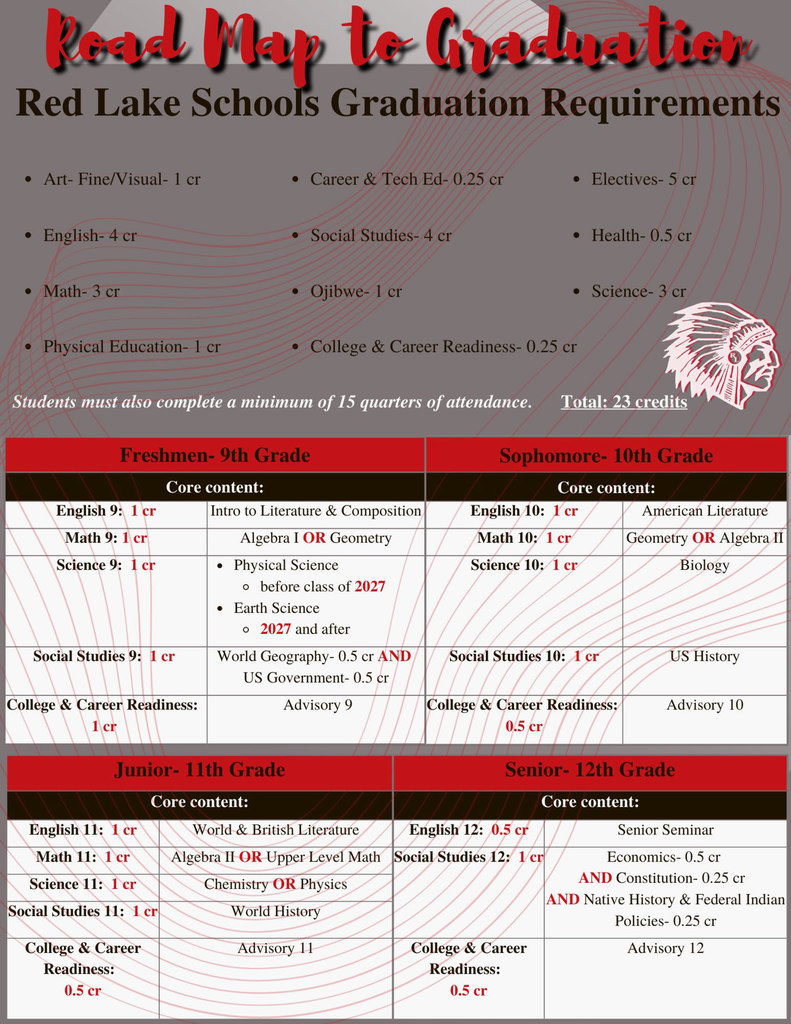 Red Lake School District has decided that we will be running two hours late this morning to give plows the time they need to clear the roads and get them well salted. All students will have a 2-hour late start today, February 15, 2023. Miigwech!

Information Update in ParentVue: Red Lake Schools Edit Check out how to edit information to make changes to your student's nickname, physician info, dental info, phone numbers, emergency contacts, and more! If you need to change an address, please reach out to a School Secretary to do so.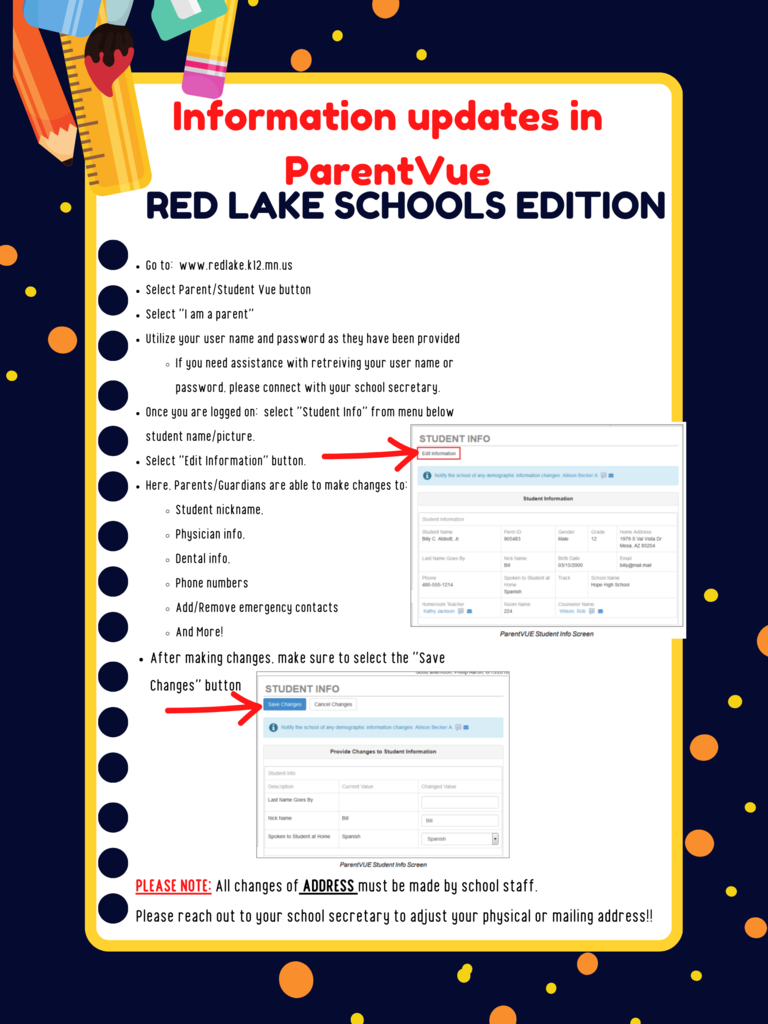 Red Lake Pharmacy Patient Newsletter The Facts of Head Lice... Symptoms: itching, sores, scabs, or red bumps on scalp, behind ears, or neck. You may see lice or nits (lice eggs). Spread by: head lice is most commonly spread by direct contact with hair from a person with head lice. Sharing clothing or belongings (like combs and brushes, pillows, towels, hats and scarves). Risk Factors: Head lice spread through direct transfer from one person's hair to another. It is not a sign of poor personal hygiene. Lice are very common in children with close contact from school or playing. Complications: Head lice themselves to not cause infection. They do not carry disease, but scratching might break into the skin and cause infection. Need treatment? visit the pharmacy over-the-counter-clinic Monday thru Friday from 8 am-12 pm and 1pm-4pm.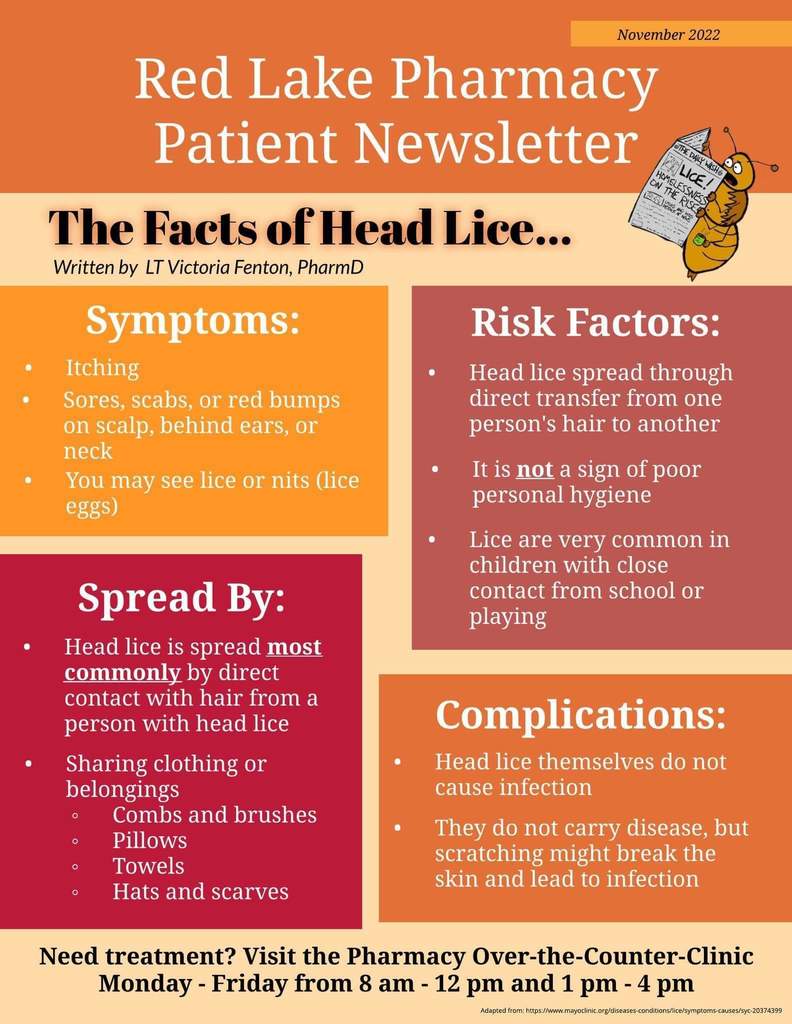 Click here to vote:
https://forms.office.com/r/w91SeXxM24
We need your help in choosing the following: -Which playground layout for RLEC -Which color scheme for the RLEC playground -Which color scheme for the Ponemah playground -If additional accessible equipment should be added in Ponemah

Reminder - it's back to school tomorrow, January 3rd! We hope that you have had a relaxing break and a time to welcome in the new year. See you tomorrow!

As we were not in person for two days this week, we are extending the order for senior sweatshirts! We have extended the order deadline to 1/9/23 at 3:00pm. All sweatshirts must be paid for no later than 3:00pm Tuesday 1/10/23. The order will be submitted that afternoon. All seniors have been sent the updated link through Teams and email.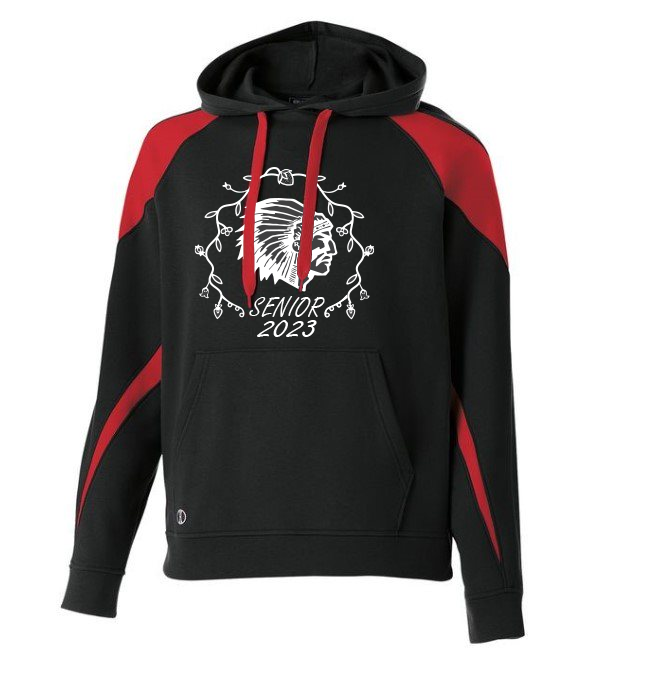 Because many side roads in Beltrami County, and around Red Lake are still not plowed, Red Lake Schools will start two hours late tomorrow morning. With the extra time and daylight, we hope people will be plowed out by then. Buses may be moving slowly through some secondary roads. Buses may not be able to go down side roads if they are not plowed. We ask for your patience and understanding, as we do our best to bring students to school. Miigwech!

Due to continued weather forecasts, calling for blizzard warnings all day tomorrow with heavy snow, driven by high winds, Red Lake Schools will need to go into e-learning for a second day. No in-person learning will take place tomorrow. Miigwech!

Red Lake Schools and busses will run two hours late tomorrow morning. We will use those two hours to decide about the rest of the day and whether we will have school in person or have an E-Learning Day. Miigwech!

All afterschool activities today, December 13th, are cancelled due to impending weather.

SENIORS: Next week is your ONLY chance to order the senior class sweatshirt!! Links were sent to enrolled seniors allowing you to order senior sweatshirts. The order link has been sent to the seniors through our Class of 2023 Team and through their email. If students would like to PURCHASE a sweatshirt, they need to complete the link, then stop by the HS office and pay Barb or Melissa for their sweatshirt by the end of the day Friday December 16. Cost: Small - 2XL: $35 3XL: $40