Online School Information
All students deserve an education that reflects and builds their identity, while providing academic rigor and support. Indigenous students have long struggled in traditional school settings, and our goal is to provide a worthwhile option that supports and honors our Indigenous students, both locally and those living off the reservation.
Our online learning environment reflects current best practices in supporting academic growth and building academic rigor, while creating a culturally-integrated school experience. Our plan honors the traditional Indigenous holistic view of child and young adult development by providing growth for mind, body, and spirit.
Our intent is to begin with grades 9-12 and add additional grades as possible.
Take a look at Lakeland Public News as they did a feature on our Online School:
https://lptv.org/golden-apple-red-lake-school-district-starting-online-school-for-grades-9-12/
Are you a student interested in Online School? Fill out this survey here: https://forms.office.com/r/Z7XMk7PPSd
Instructional Schedule for Grades 9-12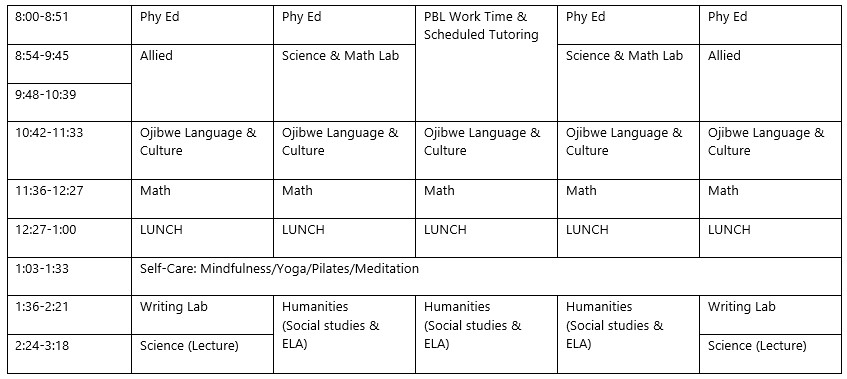 Differentiated Approaches for Different Grade Bands
As we are beginning only with grades 9-12, this student schedule reflects a schedule that meets the young adult's need for autonomy, choice, and more rigorous content. A schedule for the middle school grade band would be very different, as would a schedule for the elementary grades. For example, longer blocked classes would be replaced with short periods.
Part of each class each day will be synchronous – whether it be a lecture or discussion, or even a one-on-one check in, small group, or tutoring session. The remainder will be asynchronous to allow students the flexibility to complete authentic tasks/projects that they design with their advisor. These projects may require additional support and guidance from specific content experts and experts currently working in the field. The asynchronous nature of the schedule allows students to be able to schedule and work with those experts.

Labs allow students to work in small groups to build collaboration and communication skills, as well as ask specific questions and work hands-on with the concepts discussed in their classes.

The PBL time is designed for the student and advisor to design an authentic task/project based on MN Academic Standards. The advisor provides continual guidance throughout the process, and supports the student in working with content area experts. The project can be an integration of several disciplines and should be connected to student interests and possible career paths.

The various modes of interaction promote relationship building, learner interaction and engagement, as well as executive functioning and 21st century skills.
Required vs. Optional:
The same amount of credits are required to graduate from the online experience as are required from the traditional brick and mortar experience. However, the online experience provides additional ways to earn those credits through the completion of projects. The level of support needed from adults varies by student and academic need. This flexible schedule allows for that variation.
Expected Level of Support from Caregivers:
Caregivers will be expected to check in with students daily. Students will keep a daily task sheet and share it with their caregivers. As students move through the grades, the task sheet and daily expectation will give way to a more student-directed reckoning of how their school time was spent.
Contact Tracy Olson, Secondary Complex Principal, for more information at tlolson@redlake.k12.mn.us or 218-679-3733 ext. 1101